About Dr. S. S. Tantia MCH & RC
Our Legendary Founder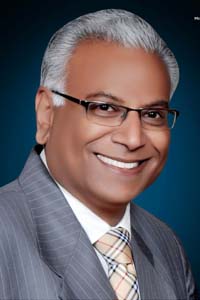 Dr. S. S. Tantia
Founder
Dr. Shyam Sunder Tantia, the Founder Chairman of the Tantia Group was a great visionary & philanthropist with super organizing ability, simplicity and humbleness. By virtue of his initiative, perseverance, resourcefulness and tenacity to overcome, he became a living icon in his lifetime. His ability to translate his dreams into reality elevated him to the stature of a visionary.
He established Tantia Hospital in the year 1982 by taking up psychiatric treatment and proceeded to provide high level patient care and welfare services to the society. Also a pioneer in Sri Ganganagar district & approaching areas of Punjab and Haryana with establishment of radio diagnosis centre in 1994 and C.T.Scan unit in year 2000.Gradually,it has expanded to provide all and best modern diagnostic facilities in whole region.
Then he ventured into the world of education by imparting quality education under the esteemed name of Tantia Higher Education Institutes. The campus comprises of 13 colleges, running medical, para-medical and technical education in this region for past 13 years. The development of various institutions of education and health care thereafter is a saga of perseverance and dedicated work of our beloved Founder.
As of 2013, aforesaid colleges have been merged into one forming part as constituent colleges, a stronger than ever organization came to known as Tantia University. (Established by Rajasthan Govt Act No 32 of 2013 u/s 2(f)of UGC Act 1956.) Getting the University status was the crowning glory for Dr. Shyam Sunder Tantia in his efforts to build centres of excellence.
The heights gained by the Tantia Group bear testimony to his tireless efforts, indomitable will, and strong sense of commitment to his ideals and goals. Our presence in the education sector is an humble tribute to his quintessential existence.
We are fortunate to have had a man of excellence, Dr. Shyam Sunder Tantia a stature in our midst. His sterling leadership quality, remarkable foresight pursuit of excellence and humanity will continue to guide and inspire future generations at Tantia University with its motto

"EXCELLENCE INNOVATION ACHIEVEMENT"
Our Chairperson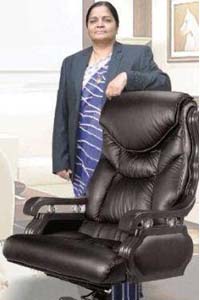 Mrs. Sunita Tantia
Chairperson
Philanthropy & doing good to mankind was our beloved Founder Dr. S.S. Tantia. He ingrained this passion to the entire Tantia group, He has been an inspirational leader & a mentor to all of us. We know that his contribution to the good of mankind, while great, is far from finished. The Tantia University remains committed " focused as it charts the path to future success.
Our Growing reputation is built on our recognized academic qualification & support for the students. We are committed to maintain high academic standards whilst preparing students to secure rewarding employment on graduation.
This view book gives a fresh perspective of Tantia University. We have attempted to capture these multi disciplinary institutes within these pages & following pages are intended to give you an overview of the vast opportunities available along with detail of institutes and our offering of Diploma programme, Under Graduate & Post Graduate courses & many sound reasons for studying with us.
Studying after 10+2 is a big decision therefore at Tantia University, We not only offer the most comprehensive range of professionally run courses, but also aim to provide the best, most fulfilling learning experience. Ours is the holistic Approach towards medical & technical Education.
We have achieved excellent employment rates and know exactly how to make those long terms ambition comes true. We are very happy to be a part of this vibrant and dynamic organization. Our aim is not to rest on the laurels already achieved but to chart a processing course of growth.
As a leadership team We understand our obligation to our students & our moral responsibility to the society. I believe that we have to power not only to academically succeed in the years ahead, but to help assure the progress & sustainability around the world.
Contact
Address
Tantia University Campus, Hanumangarh Rd, Sri Ganganagar, Rajasthan 335002
Copyright © Dr. S. S. Tantia MCH & RC - Affordable Healthcare for all. All Rights Reserved