Cashless treatment for RGHS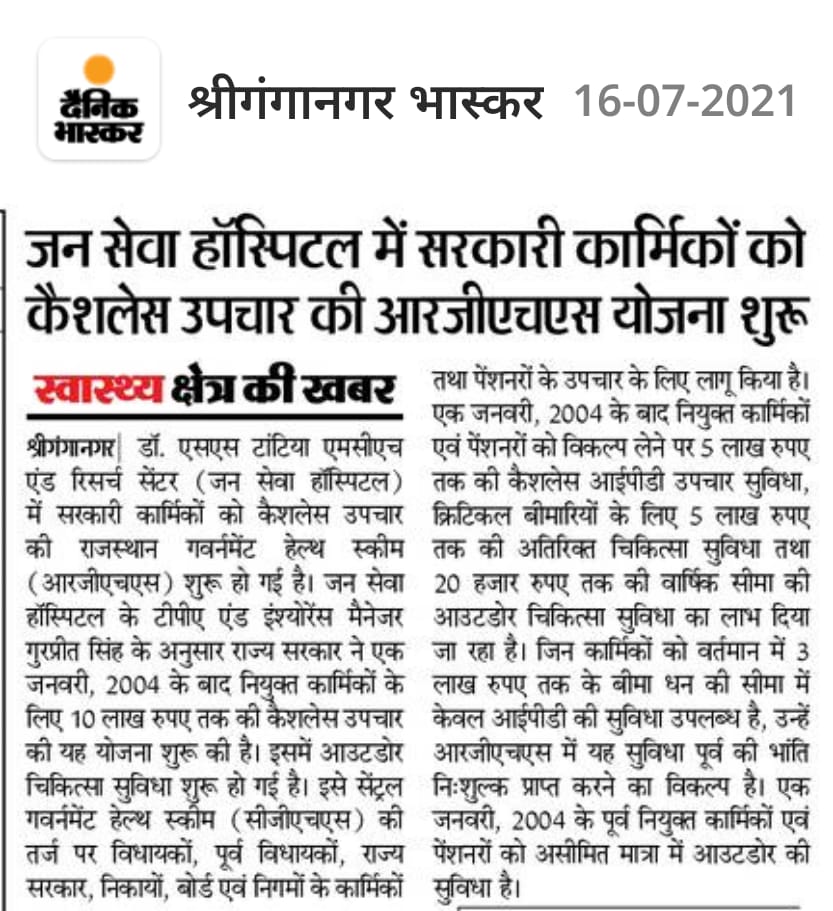 Cashless treatment Scheme for RGHS Holders
Cashless treatment facility of Rajasthan Government Health Scheme (RGHS) for state employees has been started at Dr. S. S. Tantia Medical College, Hospital and Research Centre (Jan Sewa Hospital), Sri Ganganagar.
As per TPA (Third party assurance) and Insurance manager of Jan Sewa Hospital, Rajasthan Government has started cashless treatment facility i.e. RGHS for state employees who are employed after Jan 1, 2004. In this scheme, eligible Rajasthan state government can avail cashless treatment facility benefits of upto Rs 10 Lakh including OPD services. This scheme has been started for MLAs, Ex-MLAs, State Government employees, Municipal Corporation employees on the basis of Central Government Scheme (CGHS).
TPA facility for general public
Hospital is equipped with world class healthcare infrastructure and has a motive of "Affordable Healthcare services for all". All the healthcare facilities are available for general public at a very affordable prices. For providing cashless treatment facility to general public, hospital is also empanelled with various TPA companies.
Hospital management is continuously working towards the betterment of the society. Hospital management is trying to get empanelled with as many Healthcare scheme so that health care facility benefits can passed on to the general public.