Free Treatment of Corona in Ganganagar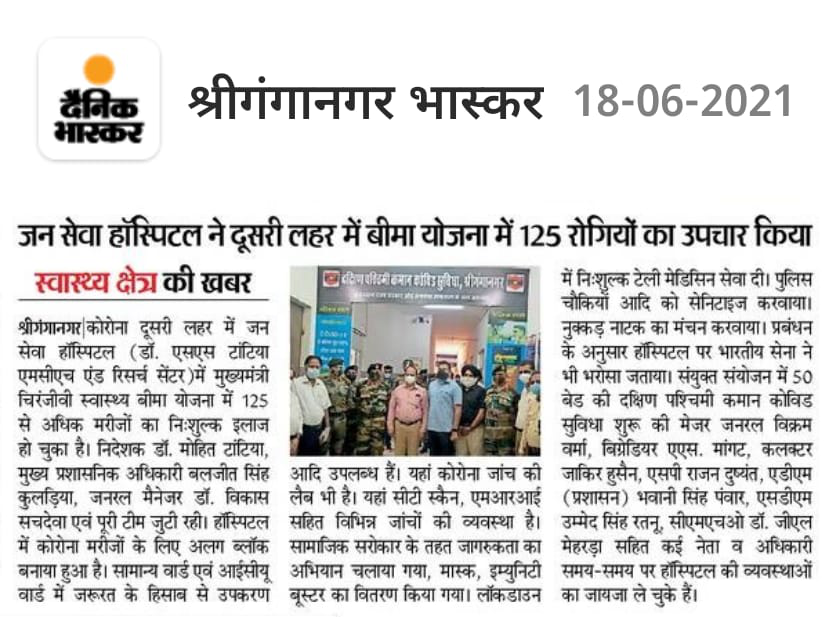 Dr. S. S. Tantia Medical College Hospital & Research Centre ( Jan Sewa Hospital ) has treated more than 125 Covid19 patients for free. The treatment is performed under Mukhya Mantri Chiranjeevi Swasthya Bima Yojana. Free treatment of Corona in Sri Ganganagar is continued at Jan Sewa Hospital. Hospital staff is continuously providing their dedicated services for the wellbeing of the society.
Hospital Management has build separate block for treatment of corona patients. The Block also known as Dr. S. S. Tantia Dedicated Covid Hospital Block has all the world class facilities for treatment of patients. Hospital is equipped with equipments as per requirements of all General and ICU wards. These all facilities are available for the general public free of cost.
ICMR approved BSL2 Lab for Corona Testing
Hospital is equipped with ICMR approved Covid Lab also. Results for Corona infection are given in upto 9 hrs. This faster results help in quick judgement of covid. Covid Lab is also NABL approved. Along with CT Scan and MRI facility, all tests facilities are available at the laboratory. Hospital management has distributed Masks, Immunity booster in social interest. Free telemedicine facility was made available to the society during the lockdown period.
Indian Army sets up a dedicated Covid Centre for Free Corona treatment in Sri Ganganagar
Indian Army has also stepped in to support the hospital in the fight of Covid and has setup a 50 bedded dedicated covid centre in the hospital. Hospital management is continuously making efforts in the well being of society. Various welfare schemes like free treatment of corona in sri ganganagar, organising Nukkad Natak for awareness etc are part of their efforts.
Dr. S. S. Tantia MCH & RC (Jan Sewa Hospital) is situated in Tantia University Campus, RIICO, Sri Ganganagar. Campus is well equipped with all world class facilities for treatment of patients. Hospital has a dedicated team of well trained staff to treat the patients. Sri Ganganagar administration and Rajasthan Government has imposed a big trust on the hospital for the well being of the society. Hospital is leading forward with its motto of "Affordable Healthcare for All".