Health Checkup camp in Karanpur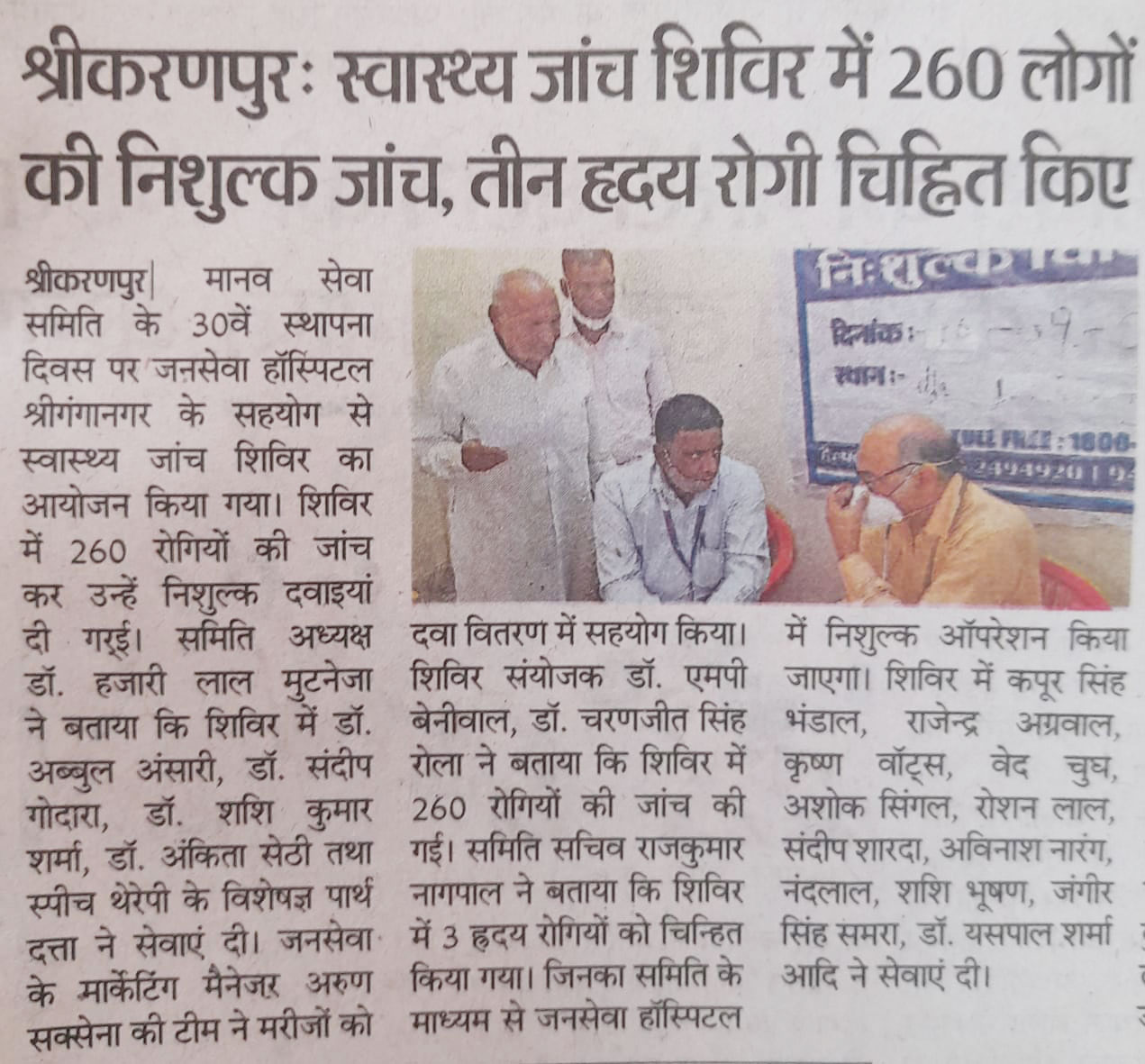 Health Checkup camp in Karanpur
Dr. S. S. Tantia Medical College, Hospital and Research Centre ( Jan Sewa Hospital ) along with Manav Sewa Sansthan Samiti organised free health checkup camp in Sri Karanpur. The camp was organised to mark the 30th Anniversary of Manav Sewa Sansathan Samiti.
Dr. S. S. Tantia Medical College, Hospital and Research Centre ( Jan Sewa Hospital ) is dedicated in providing better healthcare facilities to the community by organising these kinds of free health checkup camp in various areas like Sri Ganaganagar, Sri Karanpur, Sadulshahar and remote villages.
Health Checkup Camp in Sri Karanpur
Free medicines were distributed to around 260 patients in the camp. As per Dr. Hajari Lal Mutneja, President of Samiti, Dr. Abbul Ansari, Dr. Sandeep Godara, Dr. Shashi Kumar Sharma, Dr. Ankita Sethi and Speech Therapy Specialist Dr. Parth Datta were present in the camp. The team has provided its services to the community to serve the needy free of cost.
Marketing manager of Jan Sewa Hospita, Sh. Arun Saxena and his team helped in distribution of Free medicines to the patients. As per Raj Kumar Nagpal, samiti secretary, 3 heart patients were found in the camp. These patients will undergo heart surgery in Jan Sewa Hospital free of cost.
There were several other team members present in the camp from Samiti as well as Jan Sewa Hospital, who has put their tremendous efforts.
TPA facility for general public
Hospital is equipped with world class healthcare infrastructure and has a motive of "Affordable Healthcare services for all". All the healthcare facilities are available for general public at a very affordable prices. For providing cashless treatment facility to general public, hospital is also empanelled with various TPA companies.
Hospital management is continuously working towards the betterment of the society. Hospital management is trying to get empanelled with as many Healthcare scheme so that health care facility benefits can passed on to the general public.