Thyroid Treatment in Sri Ganganagar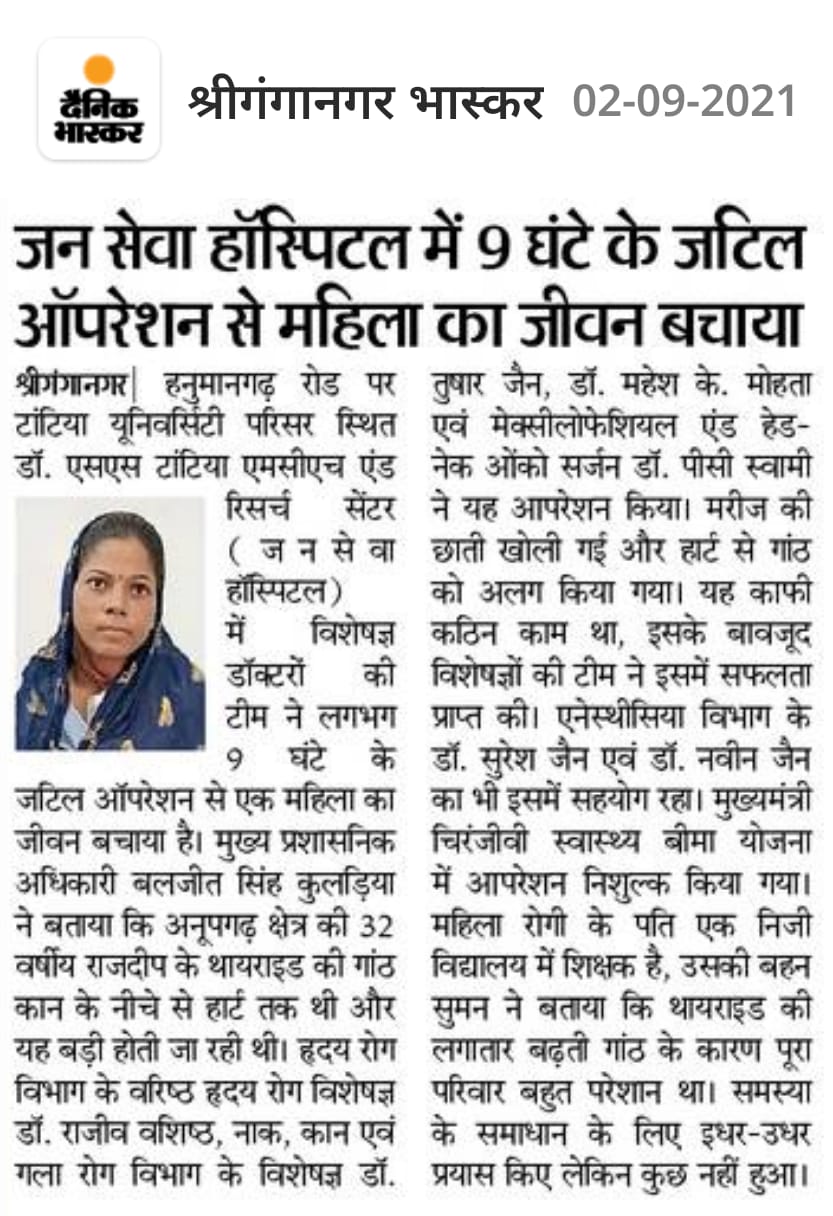 Thyroid Treatment in Sri Ganganagar
Dr. S. S. Tantia Medical College, Hospital and Research Centre ( Jan Sewa Hospital ), Sri Ganganagar, is an authorised hospital for free treatment under various government healthcare schemes like Mukhya Mantri Chiranjeevi Healthcare Scheme, ESIC, CGHS etc. Free Treatment of Thyroid in Sri Ganganagar is available at Jan Sewa Hospital.
Successful treatment of Thyroid in Sri Ganganagar
At Jan Sewa Hospital, located in Tantia University campus, Hanumangarh Road Sri Ganganagar has successfully completed a critical operation of Thyroid. The operation lasted for around 9 hours. Chief Administrative Officer, Mr. Baljeet Singh Kularia, informed that patient, a resident of Anupgarh area of Sri Ganganagar, had a Thyroid Nodule under her ear. This Nodule was growing already. Heart Specialist Dr. Rajeev Vashisht, ENT Specialist Dr. Tushar Jain, Dr. Mahesh Mohata, Head & Neck Onco Surgeon Dr. P. C. Swami has completed this operation.
Patient was treated completely free of cost under Mukhya Mantri Chiranjeevi Swasthya Bima Yojana.
TPA facility for general public
Hospital is equipped with world class healthcare infrastructure and has a motive of "Affordable Healthcare services for all". All the healthcare facilities are available for general public at a very affordable prices. He also informed that Hospital has been associated with various TPA companies, and has been authorised under various government schemes for the welfare of the society.
Hospital management is continuously working towards the betterment of the society. Hospital management is trying to get empanelled with as many Healthcare scheme so that health care facility benefits can passed on to the general public.
Authorised under various government schemes
Hospital has been authorised for treatment of Rajasthan State Government Employees and Pensioners (RGHS), ESIC Holders, Central Government Employees and Pensioners (CGHS). Hospital has been empanelled under Mukhya Mantri Chiranjeevi Swasthya Bima Yojana, Ayushman Bharat Mahatma Gandhi Rajasthan Swasthya Bima Yojana, Janani Suraksha Yojana.