Treatment of Electricity Board Employees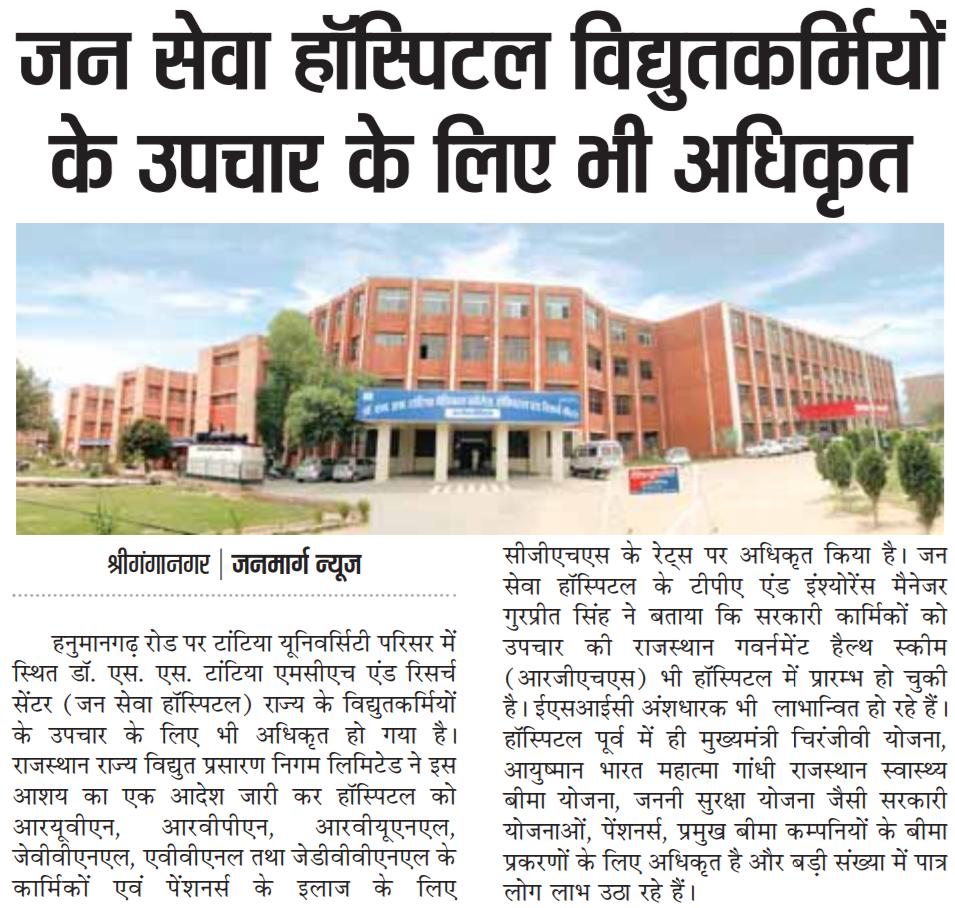 Treatment of Electricity Board Employees
Dr. S. S. Tantia Medical College, Hospital & Research Centre (Jan Sewa Hospital), Sri Ganganagar has been authorised for treatment of Rajasthan State Electricity board employees. Rajasthan State Electricity Transmission Corporation Limited has issued an order to authorise hospital for treatment of RUVN, RVPN, RVUNL, JVVNL, AVVNL and JdVVNL electricity board employees and pensioners at CGHS rates.
TPA & Insurance Manager of Jan Sewa Hospital, Mr. Gurpreet Singh, informed that cashless treatment facility for Rajasthan Government employees and pensioners has already been started under RGHS (Rajasthan Government Health Scheme).
TPA facility for general public
Hospital is equipped with world class healthcare infrastructure and has a motive of "Affordable Healthcare services for all". All the healthcare facilities are available for general public at a very affordable prices. He also informed that Hospital has been associated with various TPA companies, and has been authorised under various government schemes for the welfare of the society.
Hospital management is continuously working towards the betterment of the society. Hospital management is trying to get empanelled with as many Healthcare scheme so that health care facility benefits can passed on to the general public.
Authorised under various government schemes
Hospital has been authorised for treatment of Rajasthan State Government Employees and Pensioners, ESIC Holders, Central Government Employees and Pensioners. Hospital has been empanelled under Mukhya Mantri Chiranjeevi Swasthya Bima Yojana, Ayushman Bharat Mahatma Gandhi Rajasthan Swasthya Bima Yojana, Janani Suraksha Yojana.